A virtual tour of my exhibition

What's it all about?
What makes a place a home - your home? What does it take to make a new place your home and not only a place where you stay? Does it make a difference for a new place to become your home depending on why you left your old home? It must make a difference if you left your home by your own free will or if you were forced to leave, right? As my family and I have left our home(s) many times and started over in new places and new countries numerous times these thoughts have been on my mind for many years. In the context of the massive migrations in Europe during the summer of 2015 I felt an urge to explore this theme more in depth. The process of putting this exhibition togehter has been truly amazing. It has given me the opportunity to talk to and discuss the concept of home and migration with so many interesting people. You are all part of this project in one way or another! It has also been interesting to see what home really is to me - who knew that it would boil down to me being a real "forester"...

You can find my full Show Proposal that I submitted when applying for the Solo Show under Projects above. Some of the thoughts I had in the begining and some new ideas that developed during the process didn't fit into the exhibition or couldn't be realized the way I wanted them to. So be on the look out for a sequel ;)


Please enjoy the pictures and the texts from the Exhibition
What's home to you?

I have asked MANY friends, family members, colleagues and total strangers "What is home to you?". It have been amazing to hear and read all the different answers and they have all played a big role in the development of this exhibition. I chose to print some of the words at the rooftops of the homes in the beautiful village Pučišća (Croatia) that I visited this summer.
In the beat of my heart

You might have many places around the world that you call your home. Some of them near, some of them far and some of them might not even be a physical place, but they're always in your heart. Here I want to illustrate a place and a feeling very dear to me - the pine tree forests in Värmland, Sweden. Before starting to develop this exhibition I never thought about the forest being so closely connected with "home" for me. But over the time, as I have been preparing for the exhibition, this special place in the forest has returned to my mind over and over again. I chose to make a stencil print of my daughter on her horse, instead of painting her, to underline the feeling of being somewhere in your heart rather than in person.

The quote is from the musical "Kristina" by Björn Ulvaeus and Benny Andersson.
Yearnings

Some people are quick to make themselves at home in new places. Some people never feel at home in a new place, and some might never feel at home anywhere. "Yearnings" try to illustrate the longing you can feel to another place even though you already are in a beautiful place.
Unexpected change

Even when you're living in a refugee camp you have to deal with your every day chores, like doing laundry. Kids also need to try and keep some every day feeling to their lives by playing and making new friends. Here I want to illustrate the struggle to create a "home" in a place where no one planned to ever be and certainly don't want to spend a long time.

The quote is from a friend's friend who was forced to flee Syria and ended up in Sweden. She wrote me a beautiful and heartbreaking letter about her thoughts of leaving home and establishing a new home.
Changing Perspective

My sons flying off the sand dunes in Hornbæk, Denmark. I want to give us all a reminder of how little it takes to change your perspective with this beautiful day at the beach - just a leap into the unknown.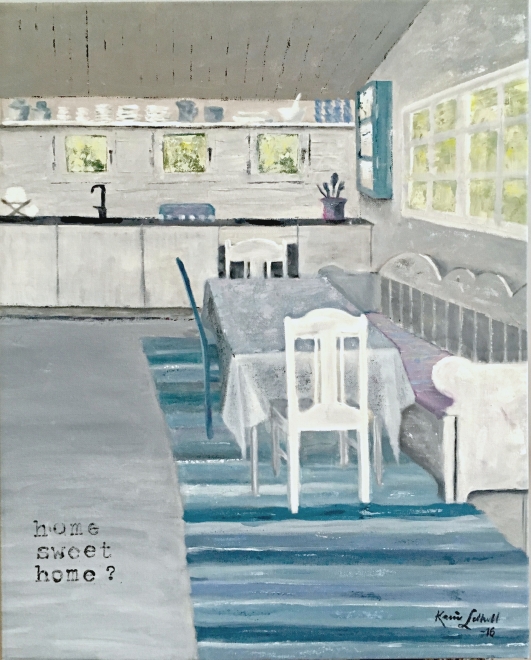 Home Sweet Home?

The house where this room is located is considered home to my family. We have not lived in Sweden for the last 8 years and we've never lived in this house year-round, however this house is where we spend most of our time when in our homecountry. So can a home be somewhere you only visit a few weeks each year? A place where you never plan to live year-round?
Morning Commuters

When does a new place become your new home? When you establish new everyday routines? Commuting to work and school? Here I'm illustrating this idea with my husband and sons out biking in Copenhagen, Denmark.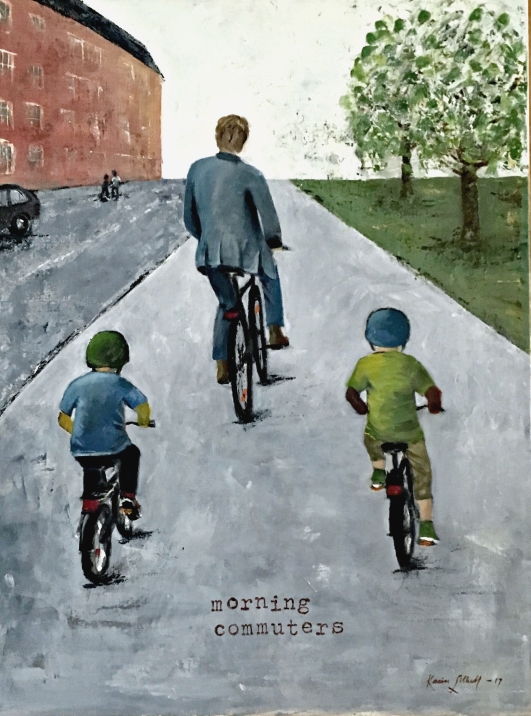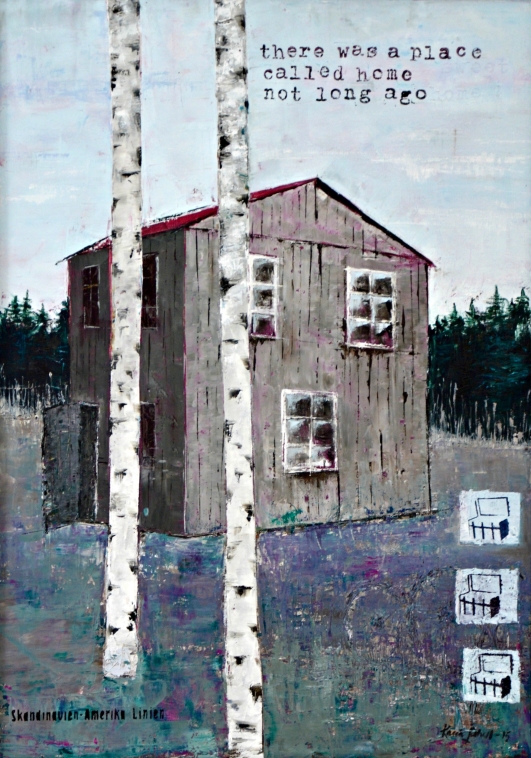 There was a place called Home #1 and #2

The name of this house is Änga, which is a local pronunciation of Meadow.
You can find it close to my summer house in the county of Värmland, Sweden. In this region very many people left their homes in the late 19th century due to poverty and no bright outlooks for their future. 20 % of the Swedish population immigrated to the USA. A success story from this village is the story of John Bryntesson, who actually found gold in the US and returned to his roots very wealthy and started a saw mill.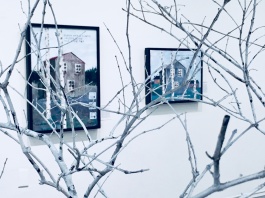 Climate Refugees #1,#2,#3

It is not only humans who experience changes these days. Climate change brings new challenges to all inhabitants of our globe - humans, animals and plants. Inspired by beautiful pictures that my husband took on a trip to Greenland a couple of years ago, I have made a series highlighting the struggle for survival in the Arctic region's changing climate.

I left my heart

In 2012, Ali fled Afghanistan at the age of 12 and came to Sweden as an unaccompanied refugee child. My family became friends with Ali when our good friends opened their home to him. Ali riding a bike symbolizes his forced move and I'm trying to show his struggle to find a new home by placing him in a traditional Swedish surrounding.

Ali's words are quoted in the picture and they try to describe how he felt about leaving his family, friends and country.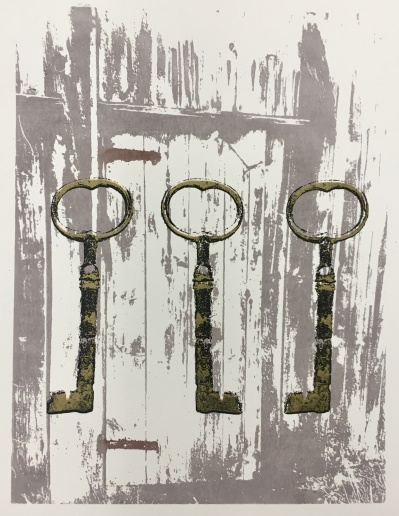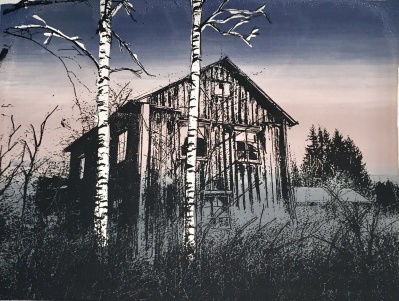 My newest passion in art is Silk Screen Printing. In the exhibition I show two of my prints "Which is the key to your home" and "The Abandoned Home". Both inspired by the same house that is featured on my cards and that you have seen above "There was a place called Home".