This is my latest experiment on Abstract Art with inspiration from the Adriatic Sea in Croatia. Looking at my photos searching for the patterns made me very happy and very dizzy. Managed to fill the canvas with color and patterns yesterday. Now I just need to wait and see what else needs to go in there - or be taken out...
Hope you'll get more happy than dizzy from looking at the painting :)!





"Home Sweet Home - on the move"
I have finally made a serious effort to bring together a complete solo exhibition. I have put down my ideas in writing, collected five new and old paintings and united them under the theme "Home sweet Home - on the move". Below you can read my outlined Show proposal and see the paintings I have used as a basis for the exhibition. In the next couple of months I will continue working and finish another 10-something art pieces to make the show complete. Looking forward to some hard work :)!!
I have been selected to be one of eight artists to have a solo exhibition at the Art League Gallery next year :)!! Welcome to The Torpedo Factory in Old Town, Alexandria, VA in November 2017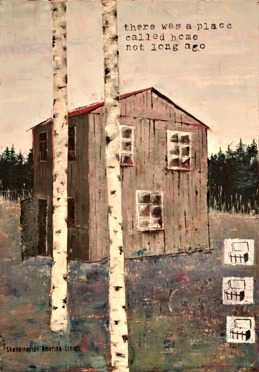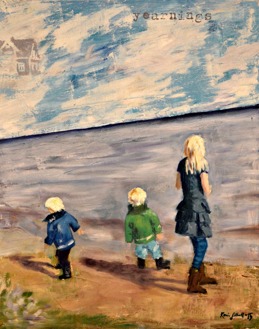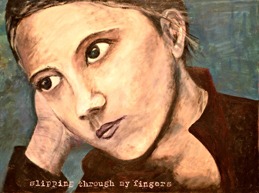 Show proposal

"Home sweet home - on the move" has evolved from my thoughts about what is a home. What makes a home a home? When is a home your home? Why do you leave your home - work situation, adventure, war, poverty or simply because you are growing up? Is there a difference in when a new home becomes your home if you left your last home by your own free will or if you were forced to leave? These questions have been on my mind for a long time as my own family has moved several times over the years. The massive migration movements into and within Europe this summer, forcing people to leave their homes, have made my thoughts even more important for me to express.

I have explored the theme from different perspectives and by considering different times in history. In addition to following the news and exploring my family's experiences, I have deepened my knowledge through talking to a friend who fled from Afghanistan to Sweden by himself at the age of 12. I have also talked to many Swedish-Americans, whose families immigrated to America in the 19th century. During this time alomost 1/5 of the Swedish population migrated to America. The Swedish author Wilhelm Moberg's novel series about the "Emmigrants" as also been an inspirational source.

My ambition is to invite the viewer to a journey through time and space exploring the concept "Home sweet home - on the move". I hope that my exhibition will inspire the viewer to think about the meaning of home and moving and contribute to the important discussion about migration from different angels, perspectives and times.

The paintings are in oil or acrylic with print on top. Oil and acrylic are my favorite mediums and I can express myself best through them. I've recently started to appreciate printing as an effective means to highlight important inputs in the paintings.

My intention is to reach out to both the visual and hearing senses by strengthening the messages in my paintings with music from the musical "Kristina från Duvemåla", based on Wilhelm Moberg's novels mentioned above.
Astrid - the process
Below I will try to capture the process of how the portrait of my daughter Astrid is developing. The picture was taken two years ago, but I haven't found the time to turn it into a painting until now. As I started I realized that she has grown a lot, both physically and mentaly. To try to capture her now I wanted to make her look a little bit older, but not grown up - just like a 12 year old... In the first pictures she turned out to look like a grown up, so I hade to make some decisions on how to change that - change her jaw, move her mouth and eye etc etc. The more I worked on the portrait the more obvious the title "slipping through my fingers" became to me. Enjoy the process - I did :)!